September 23rd Daily Analysis
September 23rd Daily Analysis
The U.S. dollar edged higher in early European trading Friday, remaining in demand after the Federal Reserve's hawkish stance, while the yen was buoyant after the intervention of Japanese authorities.
The Dollar Index, which tracks the greenback against a basket of six other currencies, edged 0.1% higher to 111.248, just below the two-decade high of 111.81 it hit in the previous session.
The index gained further momentum on both the daily and hourly charts, which built higher support. The daily chart shows support at 109.90 and 110.50 confirmed by the readings of the moving averages and MACD. Meanwhile, the hourly chart shows additional support levels between the current and daily levels at 111.30 and 111.05.
Pivot Point: 111.80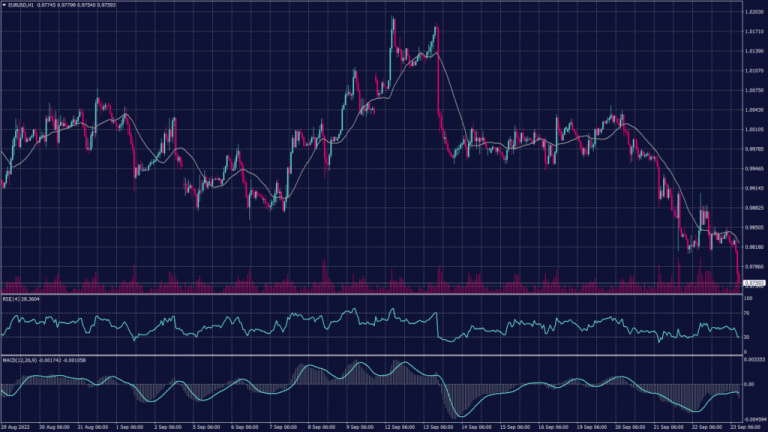 EURUSD fell 0.2% to 0.9813, not far removed from the 20-year low of 0.9807 hits overnight. Flash September purchasing managers' indexes for the Eurozone are due later in the session and are likely to illustrate the darkening regional economic outlook.
The daily chart is showing heavy pressure below the parity levels and confirms the downtrend towards 0.9630. The hourly chart signals further decline with no strong support.
Pivot Point: 0.9750
USDJPY fell 0.1% to 142.28 against the greenback. The samurai currency continued to fall after a drop of more than 1% on Thursday after Japanese authorities intervened in markets to support the yen for the first time since 1998.
The intervention followed the decision of the Bank of Japan to maintain its ultra-easy monetary policy. This provided a direct contrast to the stance taken by the Federal Reserve on Wednesday when the U.S. central bank lifted rates by 75 basis points and signaled that its interest rates will climb higher and stay elevated for longer than the markets had previously priced in.
Pivot Point: 142.70
Gold prices steadied on Friday and were set to end the week largely unchanged as selling pressure from a hawkish Federal Reserve appeared to have eased. Bullion prices showed surprising resilience this week after the Fed hiked rates and struck a more hawkish tone than many were expecting, with U.S. interest rates now set to end the year well above 4%.
Spot gold was largely unchanged at around $1,672.37 an ounce, while gold futures held around $1,680 an ounce. Resilience in prices also came as the dollar retreated slightly from a fresh 20-year peak hit on Thursday.
Technically, the precious metal remains under selling pressure below $1,665 per ounce on the hourly chart. However, technical indicators show a possibility of fluctuation and a slight rebound to 1,665 during the European session.
Pivot Point: 1,663

WEST TEXAS CRUDE (USOUSD)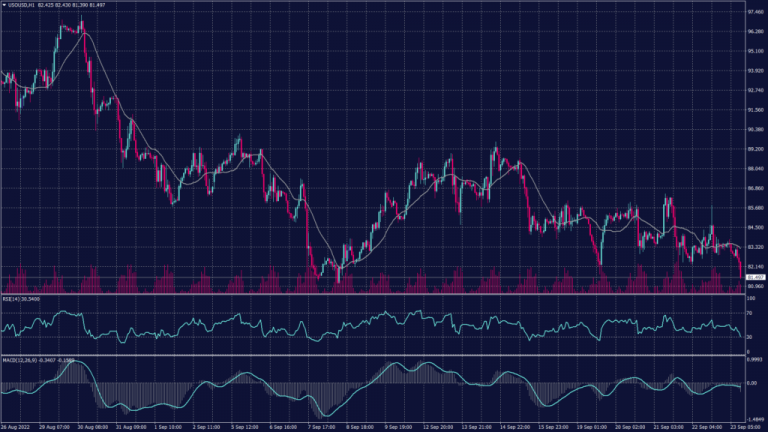 Oil prices fell on Friday amid recession fears and a stronger U.S. dollar, though losses were capped by supply concerns after Moscow's new mobilization campaign in its war with Ukraine and an apparent deadlock in talks on reviving the Iran nuclear deal. Brent crude futures fell 0.5% to $90.00 per barrel, while WTI crude futures were also down 0.55% to $83.03.
WTI is moving in a slow fashion that might lead to a horizontal trend below $83 per barrel. However, technical indicators show neutral signals, but price action shows a tendency for negative movement.
Pivot Point: 81.65
Start your trading journey with Trade Master today!