Percentage allocation management module
Percentage allocation management module, also known as percentage allocation money management or PAMM, is a form of pooled money forex trading. An investor gets to allocate their money in desired proportion to the qualified trader(s)/money manager(s) of their choice. These traders/managers may manage multiple forex trading accounts using their own capital and such pooled moneys, with an aim to generate profits.
A PAMM account involves the allocation of funds, by a client (investor) to another client (trader) who uses the same broker. This means two clients of a single brokerage firm here, meet with the other one (trader) helping another (investor) to invest his or her own money.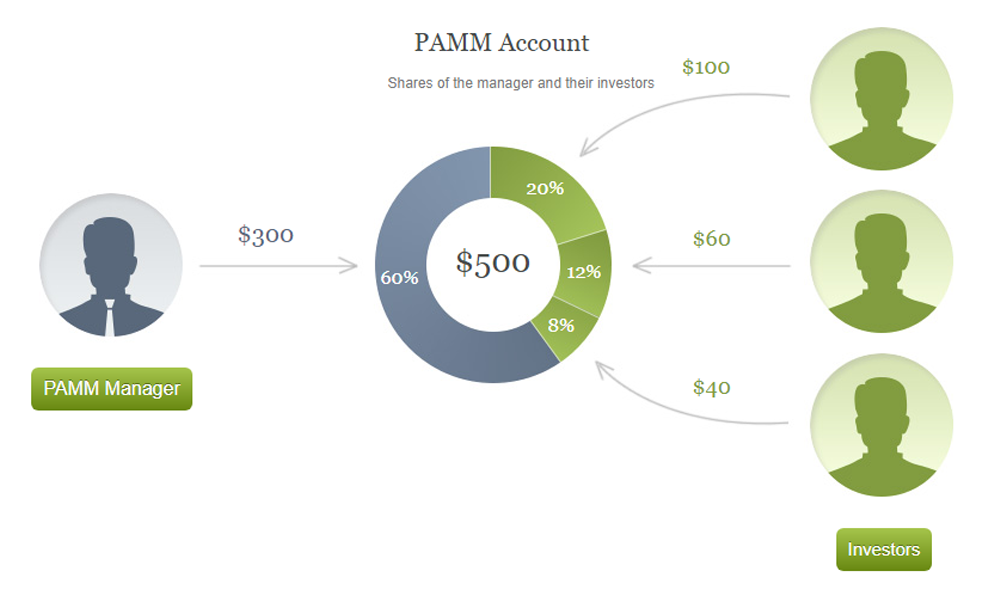 PAMM-account management platforms allow the trader to perform as many operations as he wishes, with few restrictions on the number and type of operations that he can perform.
These platforms give the trader the ability to see all their operations in real time and be able to manage them without problems.
PAMM-account earnings are paid automatically to each investor, so you do not have to worry about it.
The investor has the right to withdraw his investments from the PAMM-account if he deems it necessary unless an agreement is reached on the timing of investments between both parties. The manager cannot prevent the investor from withdrawing his capital at any time convenient for him.
PAMM accounts simplify the entire investment procedure, as they minimize risks. This is due to the fact that they use the knowledge of other traders who have experience in the market. Remember that the reality is that not everyone can invest in the market and receive a guaranteed stable profit, so the main advantage of PAMM accounts allows you to use the capabilities of those people who know how to do it effectively.
Browse through different managers, review their performance, and choose the most suitable one.
Leave your message, contact us and let us know.
Start your trading journey with Trademaster. Sit back and relax!
Start your trading jorney with Trade Master today!