November 22nd Daily Analysis
November 22nd Daily Analysis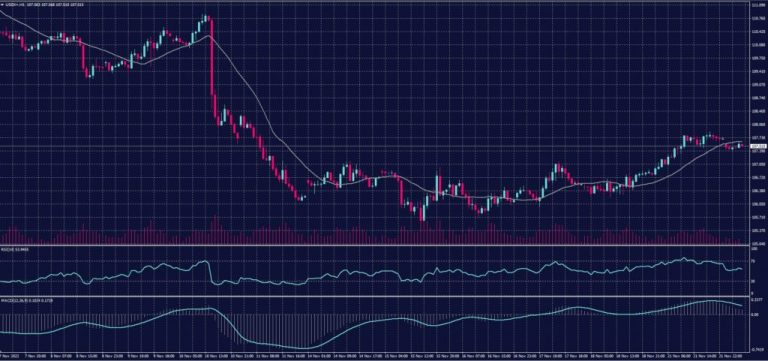 News of increasing cases of coronavirus in China made the US dollar stronger, so it rose high against major currencies yesterday, Monday, November 21. On the other hand, the Chinese yuan fell, as sentiment deteriorated due to the rise in coronavirus infections and the tightening of restrictions in some cities in the second largest economy in the world.
The dollar index, which measures the performance of the US currency against 6 major currencies, rose 0.412% to 107.330 on Monday, its highest level since November 11.
Technically, the US dollar continues to improve gradually, in an attempt to hold above the resistance levels at $107.35.
Pivot point: 107.45
The pound sterling recorded a decrease in the last trading yesterday, Monday, at 1.1831 dollars, a decrease of 0.47% during the day. This decrease is further enhanced by the stability and rise of the dollar.
The Sterling is holding near its pivot point at 1.1830.
Pivot point: 1.1830
Gold continued its series of losses from last week at the end of yesterday's session, Monday, November 21, as news of increasing cases of coronavirus in China enhanced the strength of the US dollar, while it greatly affected commodity and stock prices.
Upon settlement, gold futures (December contract) fell $14.80, or 0.8%, to close at $1,739.60 a troy ounce.
Gold is trying to stay above the pivot point levels at $1,740, but negative technical readings dominate.
Pivot point: 1,740
Oil prices ended Monday, November 21, slightly lower, but were lower in the through session after plunging to levels last witnessed in January.
This came after the Wall Street Journal reported that Saudi Arabia and other members of OPEC+ were discussing a possible production increase. This increase will be raised during their December meeting. Moreover, crude trimmed losses after the Saudi Energy Minister denied that report.
Upon settlement, Brent crude futures settled at $80.04 a barrel, while US West Texas Intermediate crude futures fell by about 35 cents to $79.73 a barrel. Thus, US crude fell below $80 a barrel for the first time since September.
Pivot point: 78.60
Start your trading journey with Trade Master today!