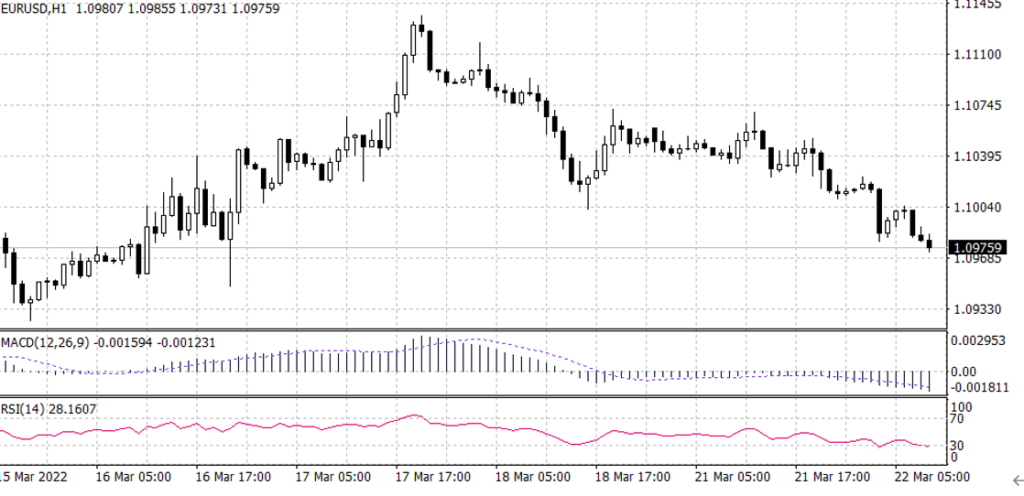 The Euro is trading lower early this morning in the wake of hawkish comments from U.S. Federal Reserve (Fed) Chair Jerome Powell that opened the door for the central bank to take a more aggressive monetary policy path. The common currency remains under pressure after dovish comments from European Central Bank (ECB) President Christine Lagarde. Lagarde said on Monday that the Fed and ECB will also move out of sync, as the war in Ukraine has very different impacts on their respective economies. Looking forward, EURUSD bears will keep eyes on the central bankers' comments, as well as Ukraine-Russia headlines to tighten the grips.
Technical analysis:
From the overview of price in EURUSD, the overall trend is bearish. From the daily time-frame price retested the major resistance level of 1.1130 before breaking multiple lows to the downside. Price is currently retesting a minor level of 1.1010 to continue lower after a series of lower lows to the downside. The MACD and RSI are below the centre-line for the added likelihood of further decline.
PIVOT POINT: 1.0930
In addition to the current geopolitical situation in eastern Europe, the latest COVID update in China is weighing the currency market overall. As the Japanese Yen hold, the Sterling pound remains to fall. This trend is affecting the GBPJPY cross which is showing a high probability of a free fall. Also weighing the quote could be the pair traders' caution ahead of the UK's monthly data dump.
Technical analysis:
The overall trend for GBPJPY looks bearish. Price seems to be fighting the minor resistance zone between 153.280 and 152.730 which is in confluence with the retest of the 50 EMA and the 38.2 Fibonacci level. It is likely seen that the price continues in the bearish direction after the retest. The RSI and MACD show the likelihood of the previously mentioned downward trend.
The central bank must move "expeditiously" to combat inflation, Powell told the National Association for Business Economics conference, adding that bigger-than-usual interest rate hikes could be deployed if needed. Federal Reserve (Fed) policymakers will take the necessary steps to get inflation down even if that means increasing interest rates by more than 25 basis points at a meeting.
Technical analysis:
The overall trend for the Dow Jones is bullish. Price seems to have broken major highs and is currently on a corrective move to the support level of 34,180. The RSI and MACD are within the centre-line which could possibly lead to price continuation to the bullish direction.
PIVOT POINTS: 34150
Start your trading journey with Trade Master today!