Euro drops below 0.8400 against the Pound after hitting resistance on 0.8455. The currency is trading lower across the board, with risk sentiment waning as hopes of a peace agreement between Russia and Ukraine start to whither in absence of any substantial progress. The EURGBP pair however is clinging to weekly gains and remains on track for the second positive week in a row, after bouncing from six-year lows at 0.8200 in early March.
Technical analysis:
Looking at the current price of EURGBP, the pair trades around a psychological level of 0.8350 and is retesting the 50 EMA to the upside from the daily time frame. The trend is in an intra-day bullish direction, but the overall trend looks bearish. Price is likely going to retest the support level forming a double bottom before bouncing to the upside to the next resistance level of 0.8465.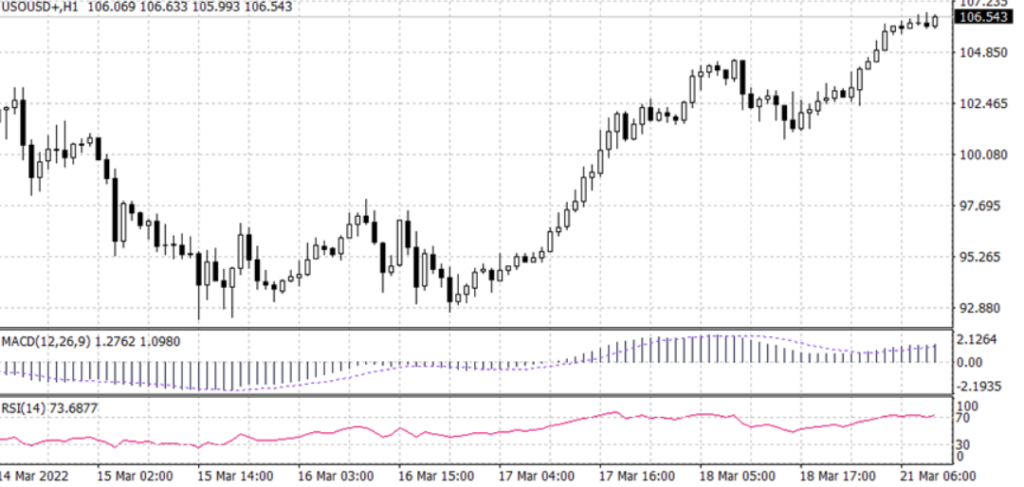 The Russia-Ukraine war has led to worries over supply disruptions due to the U.S. sanctions on Russian oil and gas. The U.K. and European Union also said they would phase out Russian fossil fuels. Oil prices jumped higher on Monday after Russia-Ukraine talks appeared to yield no sign of progress, and markets continued to worry over tight supply — sparking a call by the International Energy Agency to reduce oil demand.
Technical analysis:
From the overview of WTI price, the trend remains in a bearish direction and is currently retesting the resistance level of 108.70. Price is above the center-line in the RSI and MACD indicator and is currently overbought in the RSI which adds to the downward confluence of price.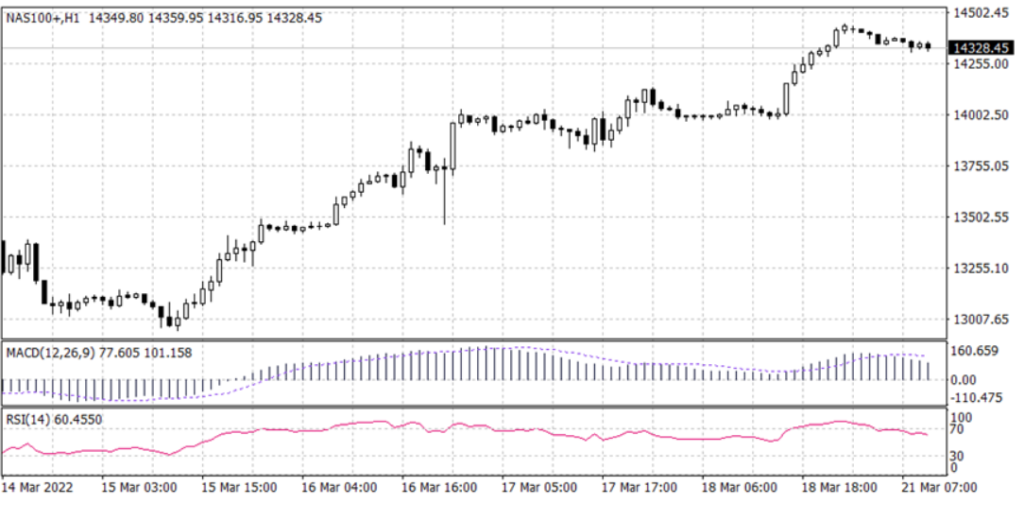 Wall Street's three major indexes closed higher on Friday, with the biggest boost from recently battered technology stocks, after talks between U.S. President Joe Biden and Chinese President Xi Jinping over the Ukraine crisis ended without big surprises.
Technical analysis:
The overall trend for NAS 100 is bullish. Price is building a support level around 14,220 after retesting a minor resistance level of 14,390. Price is trading above the 50 EMA which could lead to the retest of the EMA to add to its confluence in the bullish direction. The MACD and RSI are above the center-line which also adds to its confluence in the bullish direction.
Start your trading journey with Trade Master today!