November 16th Daily Analysis
November 16th Daily Analysis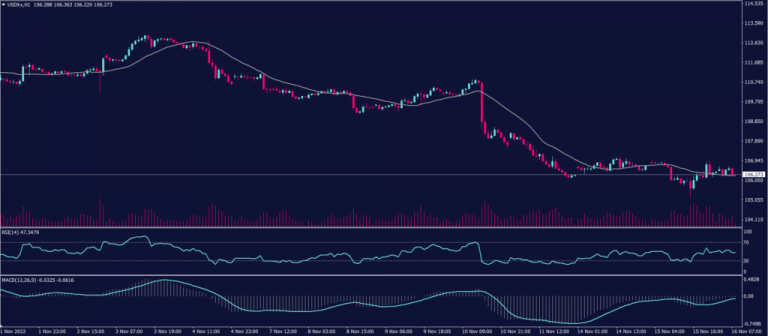 After several tests of the important resistance levels near $107, the US dollar index – which measures the price of the dollar against a basket of six major currencies – is still declining and trying to consolidate, awaiting more economic data.
The dollar index continues to decline to its important resistance levels at 106.70 and indicates a possible continuation of the decline. In the hourly chart, the technical indicators are showing signs of a bullish swing from current levels, but the moving averages are indicating the opposite. In the meantime, the daily chart confirms the moving averages' readings and shows the possibility of further decline towards 105.15.
Pivot Point: 106.15
The pound witnessed high volatility yesterday after the weakness of the US dollar amid expectations of a slowdown in the pace of inflation in the US and after the producer price index showed an increase of 0.2% for the month of October.
The Pound is awaiting more data from Britain, headed by today's Consumer Price Index, which is expected to increase by 0.6% than Previous.
Pivot point: 1.1875
Gold futures fell, when settling on Tuesday, by 0.01%, to $1776.80 an ounce, after recording during yesterday's session levels of $1791.80 an ounce, the highest level in two and a half months.
Gold trimmed some of its gains by the end of the session, after the US dollar rose slightly from its lowest level in 3 months, while the yield on US Treasury bonds declined.
Technically, gold is trading within mixed technical readings and trying to consolidate above $1,770 an ounce.
Pivot point: 1,777
Oil prices settled higher on Tuesday amid news that oil supplies to Hungary via the Druzhba pipeline had been halted due to low pressure.
The International Energy Agency stressed the need to find an alternative for up to 1.1 million barrels per day, with anticipation of the start of the European Union ban on Russian seaborne crude, which is scheduled to start on the fifth of December.
In its monthly report issued yesterday, OPEC lowered its forecast for global oil demand growth by 100,000 barrels per day in both 2022 and 2023.
Pivot point: 86.50
Start your trading journey with Trade Master today!