March 16th Daily Analysis
March 16th Daily Analysis
The so-called Fear Index rose on Wall Street after remaining relatively weak in most of the sessions this year. As investors searched for a safe haven, gold prices became higher after previously declining. Moreover, the US dollar advanced against all its developed market counterparts except for the Japanese yen. However, not all safe-haven assets rose, as the Swiss Franc declined by more than 2% against the dollar.
Pivot Point: 104.00
Gold prices rose to the highest level in 6 weeks at the settlement of trading on Wednesday, March 15th, with increasing fears of a global banking crisis.
Upon settlement, gold futures rose by 1.1%, or $20.40, to $1931.3 an ounce, the highest settlement price since the February 1st session.
Investors ignored the economic data released yesterday, including wholesale prices and retail sales in America, as the current developments in the banking sector captured the attention of investors.
Pivot Point: 1,912

DOW JONES INDEX (DJ30FT – US30)
The Dow Jones and S&P 500 trimmed their losses, and the Nasdaq index rose at the close after the Swiss central bank stated that it is ready to provide liquidity to Credit Suisse if necessary. Furthermore, the producer price data in the United States raised hopes that the pace of interest rate hikes will be reduced by the Fed.
The US indices recorded sharp losses early in Wednesday's session after the Swiss bank crisis revived fears of a global banking crisis.
The Dow Jones index fell by 0.9%, or the equivalent of 280 points, in Wednesday's session, after cutting its losses, which amounted to more than 700 points, in early trading.
However, the closing levels remained near their lowest levels in 5 months amid a collective decline in the main sectors, led by the industrial and banking sectors, which declined by about 6% and 5%, respectively.
Pivot Point: 32315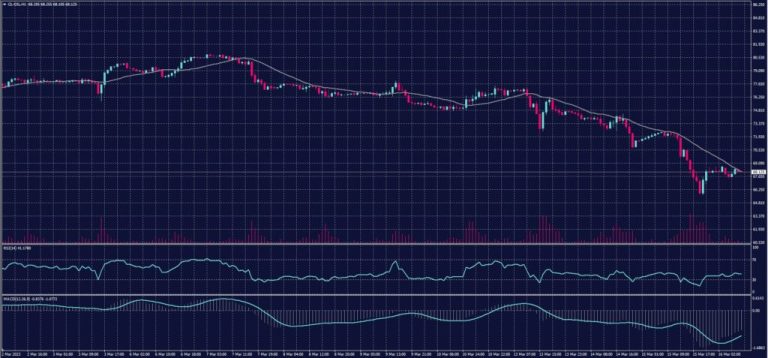 Oil prices rose in early Asian trading Thursday, March 16th, recouping some of the losses after hitting their lowest levels in more than a year in the previous session, as markets calmed somewhat after Swiss regulators' decision to bail out Credit Suisse.
Brent crude futures rose 85 cents, or 1.2%, to $74.54 a barrel. West Texas Intermediate crude futures rose 74 cents, or 1.1%, to $68.35 a barrel.
The two benchmarks rose by more than a dollar earlier in Thursday's session. On Wednesday, they fell to their lowest levels since December 2021 after falling for three consecutive days.
Brent has lost nearly 10% since Friday's close, while US crude has fallen about 11%.
Pivot Point: 68.75
Start your trading journey with Trade Master today!