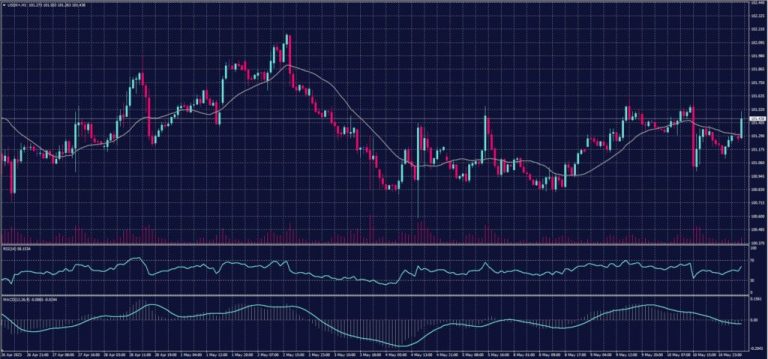 The dollar stabilized on Thursday, May 11, while the Chinese yuan fell to its lowest level in two months after more evidence that the weakness of the recovery in China after the Covid-19 pandemic casts a shadow on the global economic outlook.
The dollar began today's transactions declining against the yen, affected by the pressure resulting from the decline in US Treasury yields after the slowdown in inflation, which gave dealers more confidence that the US Federal Reserve has finished raising interest rates.
But it reversed course and pared back losses against the Australian dollar and euro in the wake of Chinese data revealing that consumer price inflation had nearly leveled off last month after an unexpected drop in imports during the week had already signaled warnings.
Pivot point: 101.25
Gold futures fell at the close of trading on Wednesday, May 10, as US inflation data provided little indication of the Federal Reserve's path to interest rates.
At settlement, gold futures fell 0.3%, or $5.80, to $2,037.10 an ounce.
Pivot point: 2032

DOW JONES INDEX (DJ30FT – US30)
The major US indices closed with a varied performance on Wednesday's session after inflation data for April came in better than expected.
The Dow Jones index declined by 0.09%, equivalent to 30 points, recording its third daily decline in a row, pressured by the decline in American Express and Chevron shares by 3% and 1.3%, respectively.
Pivot point: 33575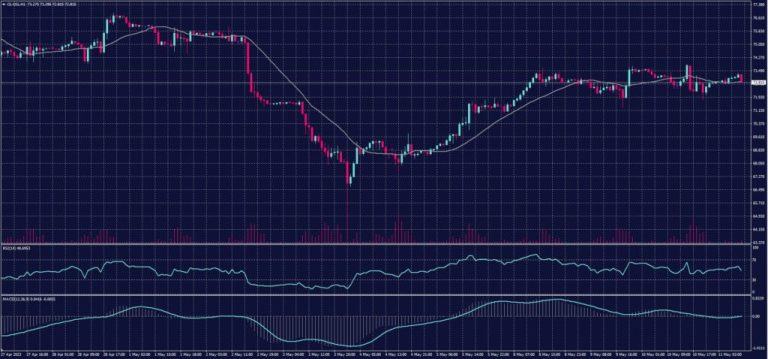 Oil prices fell more than $1 a barrel on Wednesday, ending a three-day rally after US economic data indicated that the US Federal Reserve may continue to raise interest rates.
Brent crude fell $1.03, or 1.3%, to settle at $76.41 a barrel. US West Texas Intermediate crude also fell $1.15, or 1.6%, to $72.56.
Pivot point: 72.80
Start your trading journey with Trade Master today!