On May 3rd, the dollar experienced a decline following a report revealing a decrease in new jobs in the United States. Market participants eagerly awaited the Federal Reserve's decision on interest rates, which was set to be announced later in the day.
According to data released the day before, new jobs in the US dropped for the third consecutive month in March, with the rate of layoffs being the highest it has been in over two years. This slowdown in the labor market could assist the Federal Reserve in its efforts to curb inflation.
As a result, the dollar index, which measures the US currency against six other currencies, dropped by 0.029% to 101.820, after experiencing a decrease of 0.245% the day prior.
Pivot Point: 101.80
At the end of trading on May 2nd, gold futures experienced a surge, surpassing the $2,000 level ahead of the Federal Reserve's upcoming decision on interest rates, set to be announced on May 3rd.
Upon settlement, gold futures rose by approximately 1.6%, or $31.10, to $2,023.30 an ounce, marking its highest level since mid-April.
The price increase of gold was driven by renewed concerns of potential contagion within the US banking sector. These fears were amplified following the collapse of First Republic, which is the third bank to experience such an incident in a short period of time.
Pivot Point: 2004

DOW JONES INDEX (DJ30FT – US30)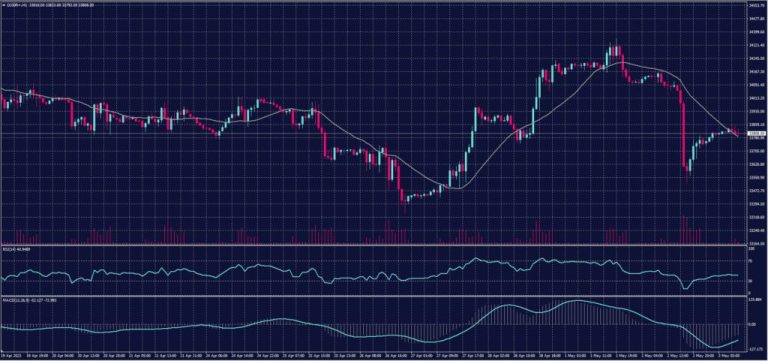 During Tuesday's trading session, US indices experienced a significant decline, primarily due to regional bank stocks faltering, which sparked renewed concerns about the financial system. Investors were also apprehensive about the Federal Reserve's plan to continue raising interest rates for an extended period.
The Dow Jones index dropped by 1.08%, equivalent to 367 points, marking its most substantial daily loss in five weeks. The S&P 500 index fell by 1.2%, but managed to stay close to 4100 points after briefly losing it during the session.
Similarly, the Nasdaq Composite Index fell by 1.1%, closing below 12,100 points, which was the most significant daily decline it has seen in a week.
Pivot Point: 33815
At the end of trading on May 2nd, oil prices experienced a sharp decline, recording their lowest settlement in over five weeks. This was due to investor focus on economic concerns, as well as anticipation of the Federal Reserve's upcoming decision on May 3rd.
Brent crude futures fell by $3.99, or 5.03%, to $75.32 per barrel, while US West Texas Intermediate crude futures fell by $4, or 5.29%, to $71.66 per barrel upon settlement.
Pivot Point: 72.90
Start your trading journey with Trade Master today!