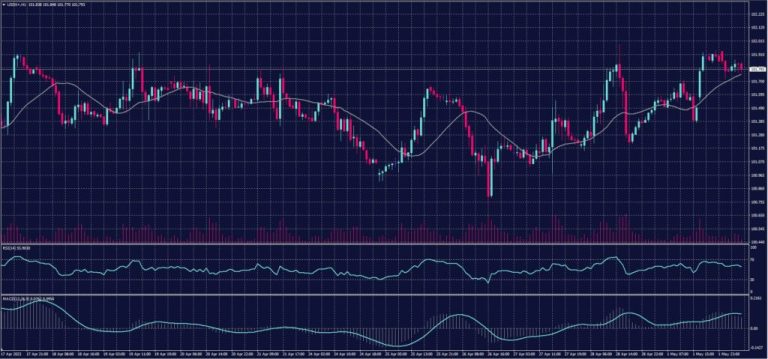 After remaining steady, the dollar index rebounded and rose by 0.3% to reach 101.7 points following the release of the Institute for Supply Management's (ISM) manufacturing PMI data yesterday.
Pivot Point: 101.70
On Tuesday, May 2, gold prices remained stable as market participants treaded cautiously, waiting for monetary policy signals from major central banks, especially the US Fed.
Spot gold remained largely unchanged, holding steady at $1,983.29 per ounce, while US gold futures slipped 0.1% to $1,991.
Pivot Point: 1988

DOW JONES INDEX (DJ30FT – US30)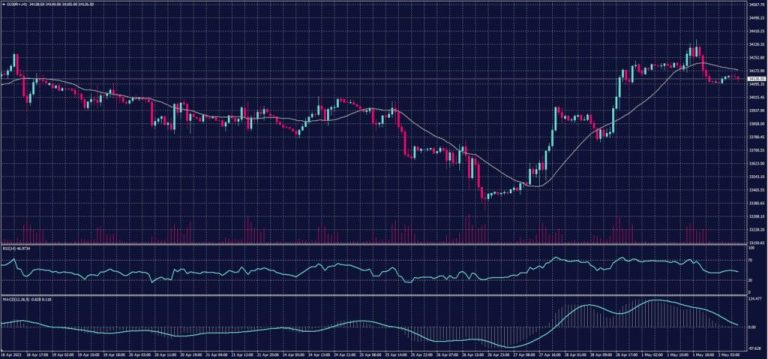 Investors were cautious in the first sessions of May as they awaited the Fed's upcoming decision, in addition to keeping an eye on the developments surrounding the First Republic Bank crisis.
US indices closed with little change, with the S&P 500 index dipping by 0.05% to close at 4,167.3 points, and the Nasdaq index losing 14.83 points, or 0.12%, to close at 12,211 points.
The Dow Jones index also fell by 50 points or 0.15% to close at 34,047 points, slightly below its two-month high.
Pivot Point: 34190
Oil prices dropped on Monday's trading session by over one dollar amidst market anticipation for the Fed's meeting later in the week, as well as weak economic data out of China.
By the end of the session, Brent crude futures fell by 1.3%, settling at $78.45 per barrel, while US crude futures recorded a 1.5% drop, closing at $75.66 per barrel.
Pivot Point: 75.60
Start your trading journey with Trade Master today!