April 28th Daily Analysis
April 28th Daily Analysis3
Following the release of US growth and unemployment benefit data and unemployment claims, the US dollar experienced a significant surge in trading on Thursday. Despite the fact that the US economy first quarter of this year recorded a lower-than-expected growth rate of only 1.1%, the dollar witnessed a remarkable rise as a result of this news.
Today, the US dollar index showed a 0.26% increase, settling close to the 101.50 points level.
Pivot Point: 101.25
On Friday, April 28th, gold prices were seen to be heading towards their second consecutive monthly gain. This is attributed to ongoing economic concerns and the relative weakness of the US dollar, both of which have driven investors towards safe haven assets. Currently, the markets are focused on the upcoming US Federal Reserve meeting scheduled for next month.
In spot transactions, gold settled at $1,989.50 per ounce and is poised for a monthly gain of 1.1%.
Pivot Point: 1988

DOW JONES INDEX (DJ30FT – US30)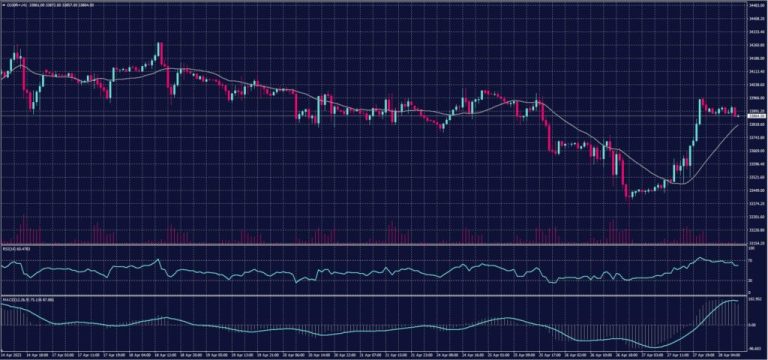 In Thursday's session, the US indices closed notably higher, buoyed by the robust rebound of Meta and other technology stocks. Despite reports of a slowdown in economic growth during the first quarter, this data was largely overlooked by investors.
The first quarter of this year saw the gross domestic product (GDP) of the United States grow at a rate of 1.1%, falling short of expectations which had predicted a 2% growth rate.
The Dow Jones index recorded a 1.6% increase, equivalent to approximately 524 points, marking its highest daily gain in almost four months. Notably, all sectors of the Dow Jones index saw positive growth, with technology leading the way.
Pivot Point: 33760
Oil prices remained largely unchanged on Friday, April 28th, but are set to register a second consecutive week of decline. This comes as disappointing economic data from the United States, which is the largest consumer of crude oil globally, and uncertainty surrounding a potential rate hike have raised concerns about future fuel demand.
Brent crude futures saw an uptick of 16 cents or 0.2% to reach $78.53 per barrel, while US West Texas Intermediate crude rose by 23 cents or 0.3% to hit $74.99 per barrel.
Pivot Point: 74.65