March 29th Daily Analysis
March 29th Daily Analysis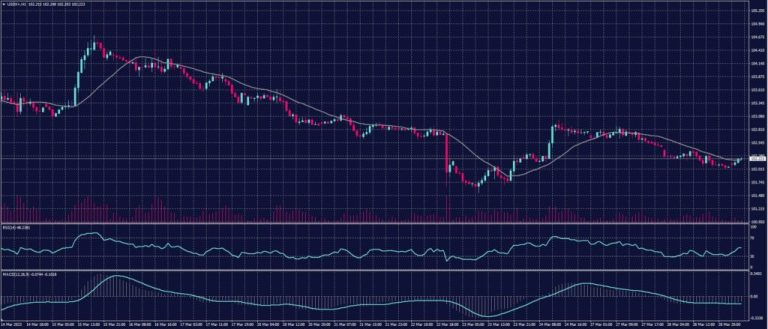 Fed member Philip Jefferson said that once the demand rate declines, inflation would return to the Fed's target of 2%, and we are still testing inflation and testing the effects of the fiscal tightening imposed by the Federal Reserve by reducing budget and raising interest rates.
Jefferson refused to comment on the pressures of the banking crisis or to talk about the interest rate hike in the next May meeting. Moreover, he stressed that the current inflation rate is very high and has maintained a high level for more than expected time and that his goal is to reduce inflation as quickly as possible. He said that this reduction would take time due to the fact that reducing some inflationary factors needs time.
The dollar index decreased by 0.40% to reach the level of 102.105
Pivot Point: 102.15
Gold prices rose at the settlement of trading on Tuesday, March 28th, for the first time in 3 sessions, amid a follow-up to the latest developments in the banking crisis.
Upon settlement, gold futures rose about $19.7, or 1%, to $1,973.5 an ounce.
While Ole Hansen, Head of Commodity Strategies at Saxo Bank, stated that gold prices might decline to $ 1933 in the near term, but expectations for gold are still bullish, with US interest rates approaching their peak.
The Conference Board's data showed that its consumer confidence index rose to 104.2 points this month from 103.4 points in February.
Pivot Point: 1,965
DOW JONES INDEX (DJ30FT – US30)
US indices closed with collective declines in Tuesday's session, under pressure from technology stocks, after the statements of a major US regulator regarding troubled banks.
A survey also showed that US CB consumer confidence increased unexpectedly in March, but at the same time revealed that Americans are becoming somewhat concerned about the labor market.
The Dow Jones fell by 0.1%, or 38 points, after two consecutive sessions of gains, to close at 32,432 points.
The pressure came mainly from the health and technology sectors, which fell by 1.2% and 0.4%, respectively, in parallel with the rise in the US Treasury yield above 4% on Tuesday.
Pivot Point: 32620
Oil prices continued to rise at the settlement of Tuesday's trading session, March 28, amid easing concerns related to the banking sector and the rise of energy demand from China.
Crude prices also benefited from the risks of supply disruptions from the Kurdistan region of Iraq, as Iraq was forced to stop exporting about 450,000 barrels per day from the northern Kurdistan region via Turkey after an arbitration decision confirmed that Baghdad's approval was required to ship oil.
Upon settlement, Brent crude futures rose by 0.7% to $78.65 a barrel, and US oil futures rose by 0.5%, recording $73.20 a barrel.
Pivot Point: 73.20

Start your trading journey with Trade Master today!