September 28th Daily Analysis
September 28th Daily Analysis
Markets forced the dollar to a fresh two-decade peak on Wednesday as rising global interest rates fed recession worries, while sterling languished near all-time lows on fears over Britain's radical tax cut plans. The U.S. dollar index rose about 0.5% to hit a new high of 114.70 in Asia trade. Meanwhile, the relentless upward rally of the dollar came as benchmark U.S. 10-year Treasury yields rose to 4% for the first time since 2010, topping at 4.004%. The two-year yields stood at 4.2891%.
Technically, the index remains positive on both the daily and hourly charts after exceeding the 114 level. However, the hourly chart shows support above 114.20 and strong resistance at 114.80. Meanwhile, the daily chart shows no strong resistance below 115.30. On the other hand, technical indicators show a possible continuation of the uptrend on MACD figures and a horizontal trend signal on the RSI.
Pivot Point: 114.30
Sterling shed 0.95% to $1.06345, reversing a marginal 0.4% gain in the previous session. It is still holding deep losses after collapsing to an all-time low of $1.0327 at the start of the week, having held near the $1.1300 level before last week's UK budget.
Technically, the cable remains negative below the level of 1.0830 despite the correction from 1.0290 and signals a possible decline from 1.0830. The technical indicators show a slowdown in the downtrend while remaining far from changing the direction. Meanwhile, the daily chart is also negative and MACD is showing a possibility of further decline towards the parity levels.
Pivot Point: 1.0775
Technically, the precious metal remains under selling pressure below $1,650 per ounce on the hourly chart. However, technical indicators show a possibility of fluctuation and a slight rebound to 1,650 during the European session.
Pivot Point: 1,620
WEST TEXAS CRUDE (USOUSD)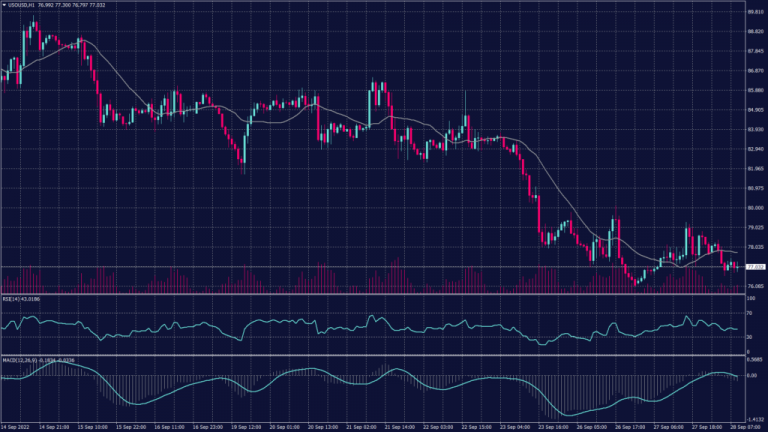 Oil prices fell more than 1% on Wednesday, pressured by a strengthening dollar and crude storage builds that offset support from U.S. production cuts caused by Hurricane Ian.
Data from the American Petroleum Institute, released late Tuesday, showed U.S. crude stockpiles rose by much more than expected last week, up 4 million barrels, raising concerns of slowing demand at the world's largest consumer. Brent crude futures fell 1.2% to $85.25 per barrel, while WTI crude was down 1.2% at $77.53 per barrel.
Pivot Point: 78.00
Start your trading journey with Trade Master today!