March 27th Daily Analysis
March 27th Daily Analysis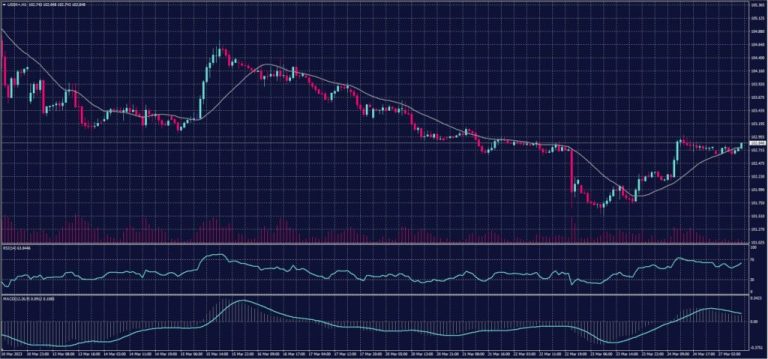 The USD is trying to stabilize above its pivot point of 102.65 in a relatively quiet week in economic data, and the highlight of Friday will be the Core Personal Consumption Expenditure Index – the Fed's preferred measure of inflation. That accelerated in January, adding to concerns about the prospects for further tightening by the Fed.
Also, consumer confidence data for March is scheduled for release on Tuesday and is likely to show the impact of pressures on the financial system. Other reports include data on pending home sales, revised GDP and initial unemployment claims.
Several Fed officials are also scheduled to speak during the week, including Fed Governor Philip Jefferson, Boston Fed Chair Susan Collins, Richmond Bank President Tom Parkin, and Governors Christopher Waller and Lisa Cook.
Pivot Point: 102.65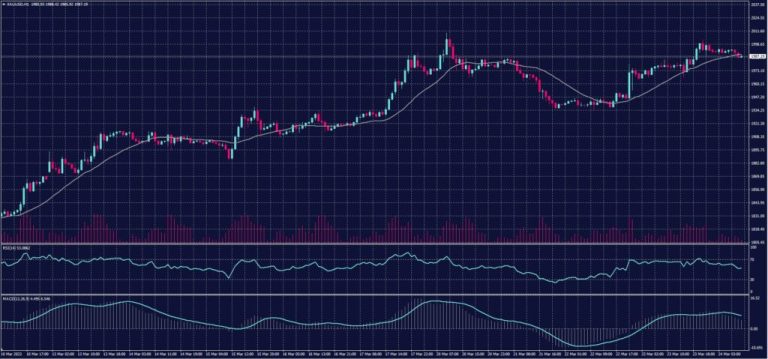 Gold prices moved in a narrow range on Friday, after a volatile week so far, as the rise in the dollar offset the support the yellow metal received from lowering of the US bond yields, but bets on a temporary halt to raising US interest rates reinforced expectations about non-yielding bullion.
There was little change in gold in spot transactions to record $1996.19 an ounce, moving in a range of approximately $20. US gold futures rose 0.1% to $1,997.50.
Pivot Point: 1,985
DOW JONES INDEX (DJ30FT – US30)
US stock indices rose at the close of trading on Friday and achieved weekly gains, despite the uncertainty about the banking crisis as well as the Federal Reserve policy.
This comes in light of the continued pressure on the stocks of the banking sector in Europe due to concerns about the banking crisis, especially after the strong rise in the cost of insuring Deutsche Bank's debts against default risks to its highest level in more than four years.
At the end of the Friday session, the Dow Jones rose by 0.4%, or about 132 points, to 32,237 points and achieved gains this week by 1.2%. The Nasdaq rose by 0.3%, or 36 points, to 11,824 points and achieved weekly gains of 1.6%. %, while the S&P 500 rose by 0.5%, or the equivalent of 22 points, to 3971 points, and its gains this week amounted to 1.4%.
Pivot Point: 32300
Oil prices rose in early trading Monday, March 27th, as concerns about turmoil in the banking sector receded.
Brent crude futures rose 33 cents, or 0.4%, to $75.32 a barrel. The price of US West Texas Intermediate crude was $69.65 a barrel, up 39 cents, or 0.6%.
Brent rose 2.8% last week, while WTI rose 3.8% after the banking sector turmoil subsided.
Pivot Point: 68.80
Start your trading journey with Trade Master today!