The dollar was down this morning in Asia, and the Japanese yen was set for its worst week in two years. Rising import costs and low-interest rates contributed to the yen's downward trend, but commodity currencies were set for a second consecutive weekly gain on the dollar as export prices continue to soar.
The overall trend of USDJPY looks bullish. Price is currently within the support level of 120.50 which is also in divergence with the RSI indicator.
PIVOT POINT: 121.00
Russia's invasion of Ukraine could accelerate the use of digital currencies to settle international payments. Given that both countries are major suppliers of commodities such as wheat, steel, natural gas, and fertilizer, subsequent sanctions responses have led to fears of disruptions to global supply chains.
From the overview of price in BTCUSD, the overall trend is bullish. Price seems to be approaching the major resistance level of 44,800 which may lead to the reversal of price to the support level of 43,420 before continuing in its bullish direction. The RSI and MACD are above the center-line, indicating the continuation of price in the bullish direction.
PIVOT POINT: 42110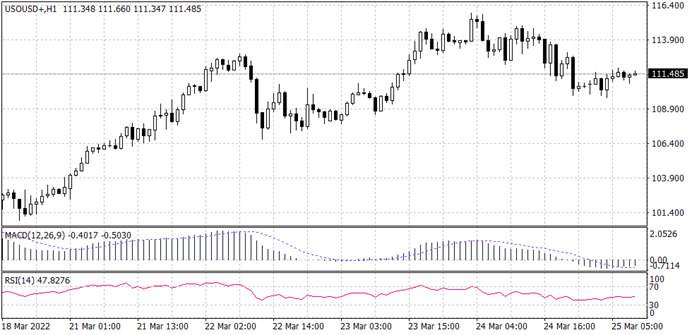 IEA member states agreed to release over 60 million barrels of oil reserves earlier this month to cool rising prices that have hit the cost of living and spurred inflation. The United States and its allies are discussing a possible further coordinated release of oil from storage to help calm oil markets in the wake of Russia's invasion of Ukraine, U.S. energy secretary Jennifer Granholm said on Thursday.
From the overview of price in WITI, the price seems to be in a bullish trend. Price is currently retesting the support level of 111.130 after a series of higher highs. There is a possibility of the price continuing in its bullish direction after the retest. Price could also retest the lower support level of 106.910 before pushing to the bullish direction. The RSI and MACD are within the centerline.
PIVOT POINT: 106.906
Start your trading journey with Trade Master today!