March 23th Daily Analysis
March 23th Daily Analysis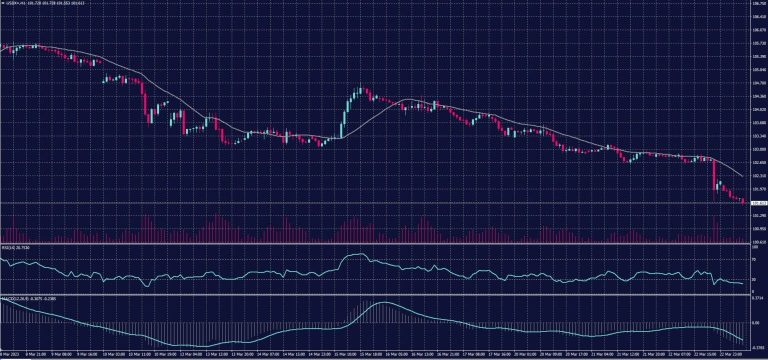 The US dollar continued its weak performance, extending its series of declines for the sixth day, after the decision to raise the federal interest rate by only 25 basis points. Moreover, the two-year Treasury yields fell by about seven basis points, after declining by 23 basis points on Wednesday.
Pivot point: 102.25
Gold prices rose at the settlement of yesterday's trading session, March 22, to return and trade above $1980 an ounce.
The Fed expects the final interest rate in the current monetary tightening cycle to be 4.3%, compared to the previous estimate of 4.1%.
Pivot point: 1,960
DOW JONES INDEX (DJ30FT – US30)
The Dow Jones index fell by 1.6%, or the equivalent of 530 points, recording the largest daily loss in a week.
The Dow Jones closed below the 200-day moving average in Wednesday's session.
The main sectors recorded a collective decline, led by the industrial sector, which declined by more than 3%.
Pivot point: 32500

Oil prices fell on Thursday, March 23, following three sessions of gains, after US Federal Reserve Chairman Jerome Powell renewed his commitment to curbing inflation, including the possibility of raising interest rates again.
Brent crude futures fell 80 cents, or 1%, to $75.89 a barrel, and West Texas Intermediate crude futures fell 84 cents, or 1.2%, to $70.06 a barrel.
Both crudes reached their highest closing levels since March 14, in yesterday's settlement.
Yesterday, Powell said that pressures in the banking sector could lead to a credit crunch, with "clear" repercussions for the US economy, which officials at the US central bank expect to slow more than expected this year.
The crisis in US banks caused fluctuations in the trading of risky assets such as oil during the past week, with investors anticipating the US Central Bank's decision to raise interest rates on Wednesday.
Pivot point: 70.00
Start your trading journey with Trade Master today!