April 17th Daily Analysis
April 17th Daily Analysis3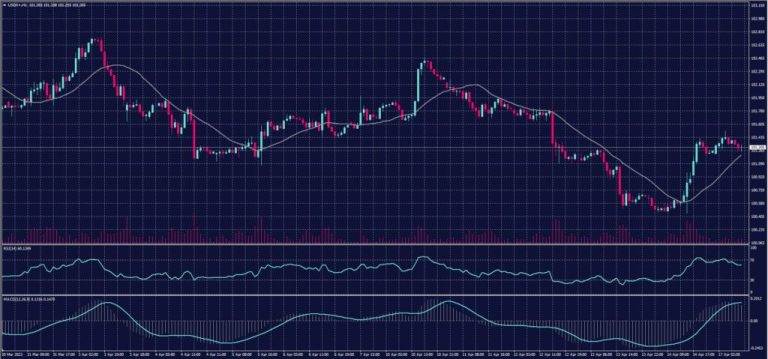 The value of the dollar inched up against major currencies while Treasury bond yields showed a slight fluctuation, with the 2-year government debt's yield, which is sensitive to interest rates, remaining at approximately 4.1% on Monday.
Last week, these yields increased due to lower-than-anticipated core retail sales figures for March and remarks from Federal Reserve officials.
As worries about the banking industry ease and inflationary pressure persists in the United States, traders are now speculating on a minimum of one interest rate hike this year.
Pivot Point: 101.05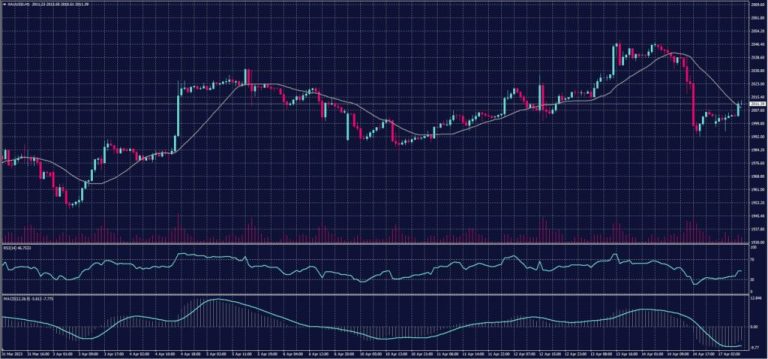 On Friday, April 14th, gold prices closed lower, resulting in weekly losses, just one day after achieving the second-highest settlement price ever.
Gold futures fell by approximately 1.9%, or $39.5, to $2,015.8 per ounce upon settlement, while the most active contract prices experienced a 0.5% drop throughout the week.
The decrease in gold prices happened simultaneously with a surge in the value of the dollar following statements from a Federal Reserve official, indicating the necessity to raise interest rates once more.
Pivot Point: 2014
DOW JONES INDEX (DJ30FT – US30)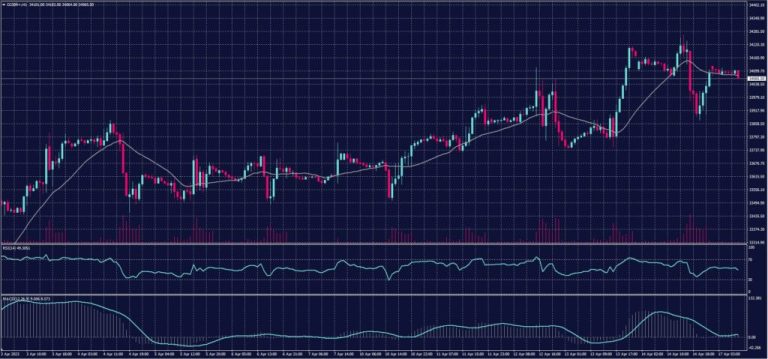 On Friday's trading session, US stock indices closed with collective declines, pressured by economic data that supported another interest rate hike by the US Federal Reserve. Despite this, these indices maintained weekly gains thanks to a strong rally in Thursday's session.
Industrial production and energy utilization data came in stronger than expected, providing the Fed with the justification to continue its interest rate hike policy in May and possibly in June.
The Dow Jones index fell by 0.4%, equivalent to around 143 points, during Friday's session, closing at 33,886 points.
Most major sectors declined, except for the financial sector, which surged by about 4.6%, supported by better-than-expected results from major banks.
Over the course of the week, the Dow Jones recorded weekly gains of 1.2%, rising for the fourth consecutive week and achieving the highest weekly close since the beginning of February 2023.
Pivot Point: 34075
After four consecutive weeks of increase, oil prices have now stabilized, as indications of a supply shortage in the market continue to emerge. The International Energy Agency has issued a warning that prices may rise even further in the future.
The futures for West Texas Intermediate traded above $82 per barrel, having recorded their longest weekly gains since June.
On Friday, the International Energy Agency stated that OPEC+'s sudden production cut will cause the market to become even tighter than previously anticipated, which will inevitably lead to further price increases, putting additional financial burden on consumers.
Pivot Point: 82.50
Start your trading journey with Trade Master today!