The U.S. dollar hit a fresh two-decade peak as investors are seeking safety. Market participants expect further aggressive rate hikes by the Fed with the expectation of higher inflation figures. Meanwhile, the dollar index was 0.25% higher at 108.47, its highest since October 2002.
The USDX continues to fly on the uptrend and breaks above the strong resistance at 107.40. Meanwhile, the daily chart indicates a continuation of the uptrend in the long term towards a new high above 108.60.
Technical indicators show mixed signals as RSI shows the index overbought while MACD shows a possibility of continuation. However, the moving averages at 20 and 55 show a continuation of the trend and no signals of a reverse.
PIVOT POINT: 108.40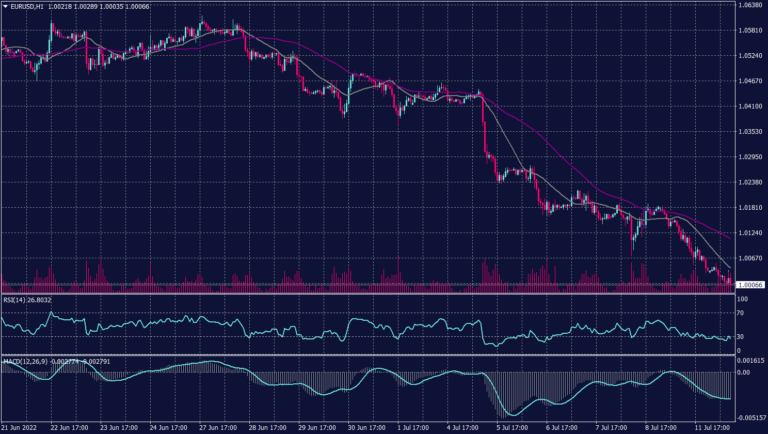 Euro weakness has been a big part of the dollar index's push higher, with the safe-haven U.S. currency also supported by worries about growth elsewhere too. Additionally, Eurozone finance ministers said on Monday that the fight against inflation was the current priority although it might slow the economic growth.
The Euro pair drops to a new 20-year low and hinders any sign of recovery. The overall direction remains strong selling trend reaching below 0.9960
PIVOT POINT: 1.0010
Gold fell to its lowest price in over 9 months during the Asian trades as the U.S. dollar hit 20 years high. Precious metal prices dropped to their lowest level since September at $1,728 per ounce during the previous session.
Meanwhile, gold continued the decline below $1,740 per ounce this morning in Asia. Gold is trading inside the support range between 1,720 and 1,740 and shows a possibility to hit 1,720 sooner than anticipated. The daily chart, however, shows a continuation of the negative trend towards $1,680.
PIVOT POINT: 1,730
WEST TEXAS CRUDE (USOUSD)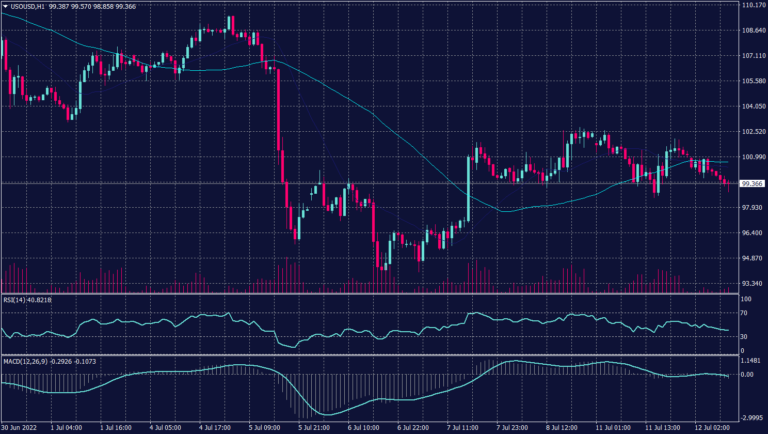 Oil prices fell on Tuesday as fresh COVID-19 curbs in China, the world's biggest crude importer, and fears of a global economic slowdown weighed on the fuel demand outlook. Brent crude fell $1.35 to $105.75 a barrel, while WTI traded at $102.64 a barrel.
However, market participants remain worried that Russia will discontinue the pipeline that carries oil from Kazakhstan to the Black Sea, potentially disrupting 1% of the global crude supply.
Meanwhile, spare capacity at the Organization of the Petroleum Exporting Countries is running low with most of the producers pumping at maximum capacity.
On the hourly chart, WTI prices show a decrease in volume traded due to the worries about global growth and consumption. However, the daily chart confirms the high probability of the decline and targets $95. Meanwhile, the WTI remains supported at $99 on the hourly chart.
PIVOT POINT: 99.00
Start your trading journey with Trade Master today!