April 10th Daily Analysis
April 10th Daily Analysis3
The dollar rose against a basket of major currencies, and the index closed 0.2% higher in the previous session.
On Friday, the Bureau of Labor Statistics said that non-farm payrolls increased by 236 thousand – slightly above the median forecast – after a rise of 326 thousand in February. The unemployment rate fell to 3.5%. While the average hourly wage increased by 4.2% compared to last year, which is lower than estimates, and the slowest since June 2021.
Pivot Point: 101.75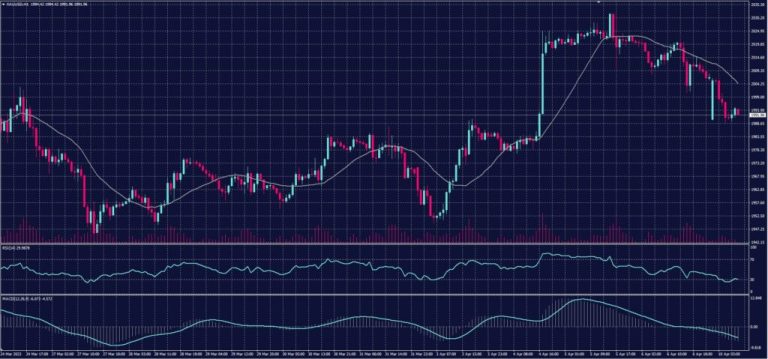 Gold prices stabilized at Thursday's closing at $2,006 an ounce, before opening today's session with price gaps downward, close to $16 an ounce, as the markets were closed on because of the Good Friday Holiday in the United States of America and the Easter holiday in Europe.
Gold is now trading close to the second support level at 1988. It has experienced that several times since the markets opened.
Pivot Point: 2010
DOW JONES INDEX (DJ30FT – US30)
The Dow Jones index rose slightly by 0.01%, or the equivalent of 2.5 points, to close at 33,485 points, and Microsoft stock topped the list of the highest gainers after rising by 2.5%, recording its highest closing in more than 7 months.
Over the past week, the index rose by 0.6%, recording gains for the third week in a row.
Pivot Point: 33690
Oil prices rose in early Asian trading on Monday, April 10, supported by expectations of production cuts targeted by OPEC + starting in May, but concerns about the global economic outlook limited the gains.
Brent crude futures rose 13 cents, or 0.2%, to $85.25 a barrel, while US West Texas Intermediate crude rose 14 cents, or 0.2%, to $80.84 a barrel.
Pivot Point: 80.35
Start your trading journey with Trade Master today!