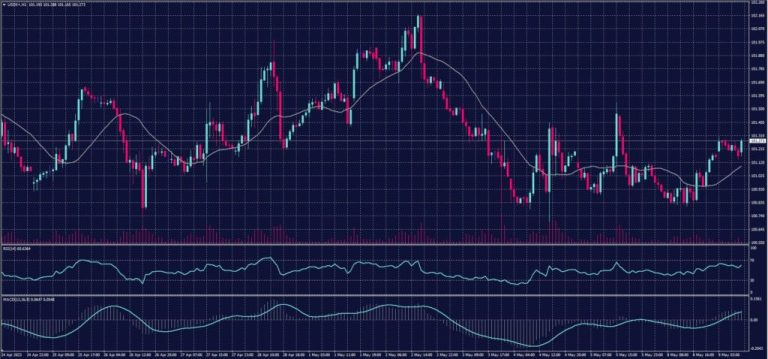 US Treasury Secretary Janet Yellen has once again warned that she expects the Treasury to run out of cash and extraordinary measures to pay government debt by June 1st.
Yellen emphasized that the only option that would guarantee a strong position for the financial system and the economy is to raise the debt ceiling. She also warned that any harm to America's credit rating or default would have a negative impact on the dollar as a reserve currency.
Pivot point: 101.05

Gold prices rose at the close of the trading session on Monday, May 8th, marking the fourth time in the last five sessions that they have ended higher.
At settlement, gold futures increased by 0.4%, or $8.4, to reach $2,033.2 per ounce.
Pivot point: 2021
DOW JONES INDEX (DJ30FT – US30)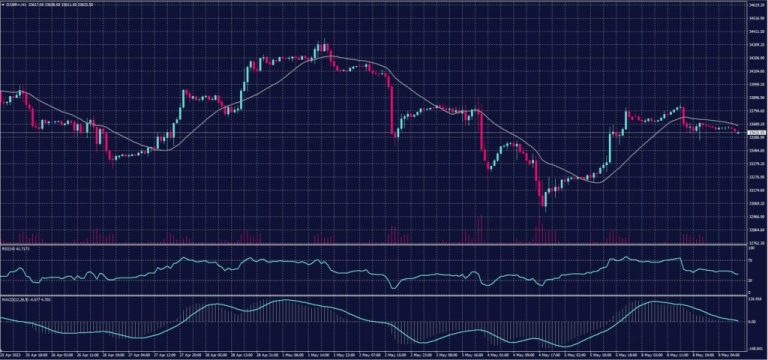 On Monday, the main US indices closed with divergent results after a strong rise in the previous Friday's session, as investors awaited the release of inflation data for April, expected to be published the following Wednesday.
The Dow Jones index declined by 0.2%, equivalent to 55 points, under pressure from the technology sector, which decreased by 0.5%. The index was affected by the decline in Apple and Microsoft shares by 0.2% and 0.6%, respectively.
Meanwhile, the S&P 500 index rose slightly and closed at a stable level of 4,138 points.
Pivot point: 33695
On Tuesday, May 9th, oil prices declined in early trading, giving back some of the strong gains from the previous two sessions. The market was cautious ahead of the release of US inflation data for April, which would likely impact the next US Federal Reserve decision regarding interest rates.
Brent crude dropped by 0.4% or 31 cents to $76.70, while West Texas Intermediate crude fell by 0.3% or 23 cents to $72.92.
Pivot point: 72.50
Start your trading journey with Trade Master today!