November 08th Daily Analysis
November 08th Daily Analysis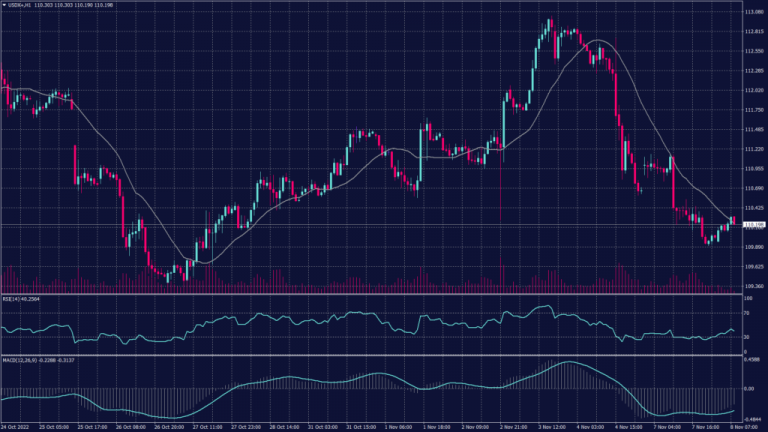 The dollar wobbled Monday, but that hasn't squeezed the life out of bets for the greenback to reign supreme in the coming weeks with the midterms and fresh inflation data on the horizon.
The hourly chart shows resistance at 111.08 and also shows the index heading towards 110.70. Meanwhile, technical indicators show slight divergence and the possibility of rebounding if the index gained momentum before breaking 110.30.
Pivot Point: 111.10

Sterling Pound fell 0.7% to 1.1485, with the Bank of England's sharp interest rate hike last week doing little to protect the sterling after it warned that the country had already entered what is likely to be a prolonged recession. The U.K. is set to release preliminary data on third-quarter growth on Friday, which is expected to show that the economy contracted 0.5% in the three months to September.
Despite the positive movement this morning, the Sterling pair remains under heavy selling pressure. The hourly chart indicates a possible continuation of the corrective trend towards 1.1270. However, the daily chart shows a more bearish tendency.
Pivot Point: 1.1220
Gold fell this morning, reversing some steep gains from the prior session as China's recommitment to its zero-COVID policy ramped up concerns over slowing economic growth and boosted the dollar.
Spot gold fell 0.4% to $1,674.12 an ounce, while gold futures fell 0.5% to $1,677.30 an ounce in early Asian trade. Prices of the yellow metal rallied sharply on Friday after U.S. nonfarm payrolls data read stronger than expected for October, while the dollar fell. Gold is also expected to remain under pressure in the coming months, given that the Federal Reserve signaled it will keep hiking interest rates to curb inflation.
Pivot Point: 1,670
WEST TEXAS CRUDE (USOUSD)
Oil prices fell on Tuesday as recession concerns and worsening COVID-19 outbreaks in China sparked fears of lower fuel demand, outweighing supply worries. However, Chinese health officials over the weekend reaffirmed China's commitment to its strict zero-COVID policy. Also, recent data showed the country's exports and imports unexpectedly contracted in October. Brent crude fell 0.3% to $97.61 a barrel, while WTI crude fell 0.4% to $90.20 a barrel.
Pivot Point: 90.70
Start your trading journey with Trade Master today!