April 06th Daily Analysis
April 06th Daily Analysis3
The dollar rose slightly today, but it is not far from its recent low in two months, as traders assess the impact of the non-farm payroll data announced during the weekend on the monetary policy of the US Federal Reserve
Friday's US nonfarm payrolls report follows disappointing service sector data from the Institute for Supply Management and private sector employment data on Wednesday, as well as a drop-in US manufacturing activity in March at the weekend.
The dollar index rose 0.1% to 101.95 after falling to a two-month low of 101.40 in the previous session.
Pivot Point: 101.40
Gold prices recorded their highest levels since March 2022 yesterday, as they continued to rise after weak US economic data reinforced the bet on slowing the pace of raising US interest rates.
Gold in spot transactions rose 0.1% to $2,021.97 an ounce, while US gold futures settled at $2,038.70.
Pivot Point: 2020
DOW JONES INDEX (DJ30FT – US30)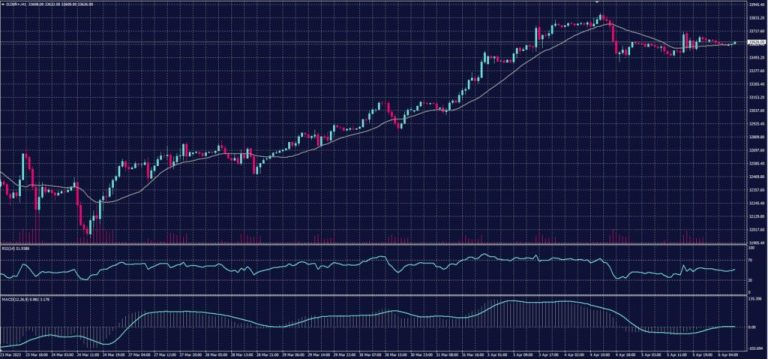 The Dow Jones index rose by 0.2%, or the equivalent of 80 points, to close at 33,482 points.
The support came from Johnson & Johnson shares, which jumped more than 4% to their highest levels in two months. These shares secured the support and approval of thousands of claimants for an $8.9 billion offer to settle lawsuits over the carcinogenic powder, which eased the burden on the company's plans to list a Kenvue Consumer Health Unit.
Pivot Point: 33620
Oil fell Thursday, April 6, as weak US economic data raised fears of a possible global recession and a decline in demand. However, crude prices are heading towards a weekly rise after the OPEC + group announced more production cuts, in addition to a decrease in US oil stocks.
Brent crude futures fell 74 cents, or 0.9%, to $84.25 a barrel, and West Texas Intermediate crude futures fell 73 cents, or 0.9%, to $79.88 a barrel.
Pivot Point: 80.40
Start your trading journey with Trade Master today!