The dollar was up on Tuesday morning in Asia, gaining support from a strong rebound in the U.S. 10-year Treasury yields. U.S. 10-year Treasury yields pushed past 2.959% after reopening from a holiday, from the lowest since May at 2.7910% on Friday. Meanwhile, the U.S. Dollar Index stabilized above 105.20 and targets a new high.
The daily chart indicates a continuation of the uptrend in the long term towards a new all-time high. Technical indicators can't confirm the continuation while moving averages show horizontal signals. The hourly chart shows an upward movement but keeps the tendency for a slight decline on the way.
PIVOT POINT: 105.40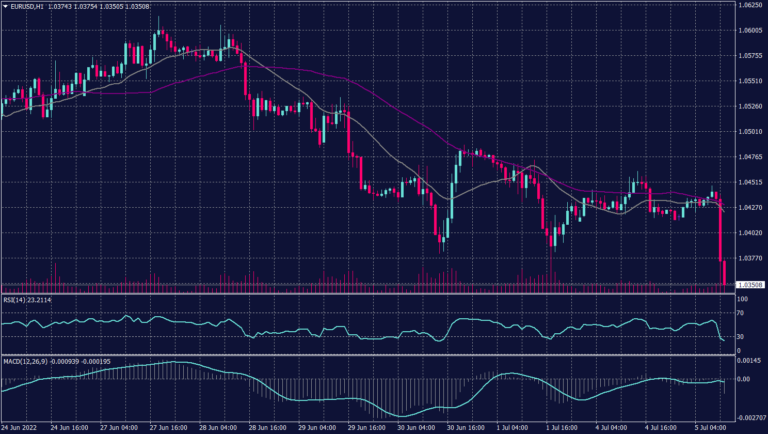 The euro rose 0.13% to $1.0435, gaining support after Bundesbank chief Joachim Nagel said the very accommodative stance of the European Central Bank (ECB) would "swiftly be abandoned" and a restrictive policy stance might be needed to achieve the inflation target. The policy outlook may not sustain the euro longer term, National Australia Bank markets economist Tapas Strickland said in a note.
The Euro pair drops to a new 20 years low and hinders any sign of recovery. The overall direction remains strong selling trend reaching below 1.03500.
PIVOT POINT: 1.0320
Gold prices rose marginally on Tuesday, buoyed by economic growth concerns, although an elevated dollar and impending interest rate hikes kept gains in check. Spot gold was up 0.1% to $1,810.45 per ounce while U.S. gold futures gained 0.6% to $1,812.20.
Technically:
Gold broke below the support at $1,800 which confirms a drop towards $1,785. The daily chart, however, show a continuation of the negative trend towards $1,750 unless the prices pounced to 1,840, which is technically not as easy as the decline.
PIVOT POINT: 1,800
WEST TEXAS CRUDE (USOUSD)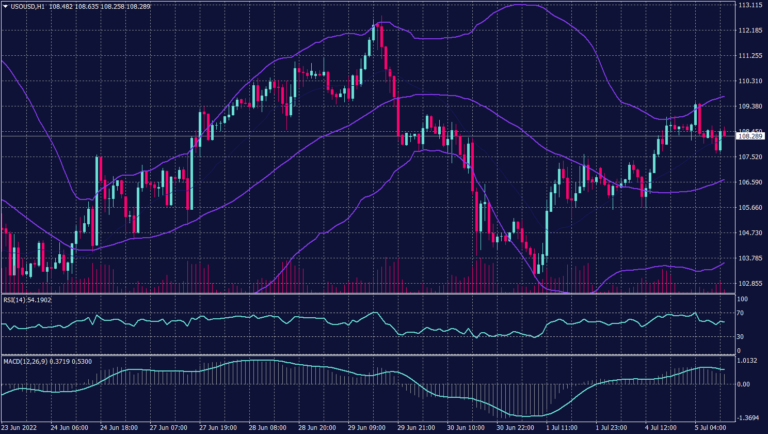 Oil was up over supply tightness concerns as a strike in Norway threatened to disrupt oil and gas output. On Tuesday, Norwegian offshore workers began a strike that is expected to reduce oil and gas output by 89,000 barrels per day. Brent oil futures rose 0.23% to $113.7 and WTI futures jumped 1.86% to $110.46.
Technically:
On the hourly chart, WTI prices show a decrease in volume traded due to the worries about the global growth and consumption. However, the daily chart confirms the high probability of the decline and targets $98 a barrel before any serious gains happen.
PIVOT POINT: 108.30
Start your trading journey with Trade Master today!