April 05th Daily Analysis
April 05th Daily Analysis3
The US dollar declined significantly during Tuesday's trading and fell to its lowest level since early February. This decline took place after the release of some negative US economic data that raised concerns about the fact that the Fed's continuing to raise interest rates.
This data reinforced expectations that the Fed will not raise interest rates at its upcoming meeting, especially after the labor market was affected by the previous interest rate hike.
Economic data in the US revealed that factory orders fell by about 0.7% in February, compared to a 2.1% decline in January.
Pivot Point: 101.45
Gold prices rose at the settlement of trading yesterday, Tuesday, April 4th, recording a level that was only about 2% lower than the all-time high.
Upon settlement, futures contracts for the yellow metal rose by about 1.9%, or $37.80, to $2,038.2 an ounce, which is the highest settlement price for the most active contract since March 8, 2022.
Gold received support from the decline in the US dollar index to its lowest level in two months, as economic data in America revealed that factory orders fell by 0.7% in February, compared to a decline of 2.1% in January.
Pivot Point: 2007

DOW JONES INDEX (DJ30FT – US30)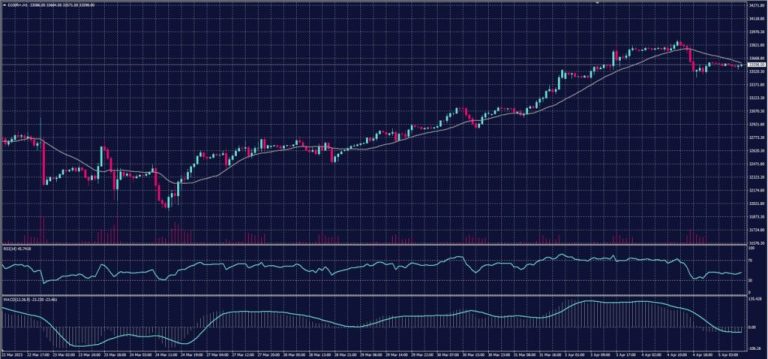 US indices closed collectively lower in Tuesday's session, with renewed recession fears among investors after the announcement of weak economic data in the United States.
As the data showed, job opportunities fell to the lowest level in nearly two years, indicating a decline in the labor market.
Factory orders fell for the second month in a row, indicating weak manufacturing activity in the United States.
The Dow Jones fell by 0.59%, or the equivalent of 199 points, to close at 33,402 points but managed to stay above the moving average for a period of 50 days.
The industrial sector led the declines in Tuesday's session after declining by 2%, and the technology index fell by 0.15%.
Pivot Point: 33650
Oil prices rose in early Asian trading on Wednesday, April 5, due to a decline in US crude stocks and the latest cut in production targets for the OPEC + alliance.
Brent crude futures rose 38 cents to $85.32 a barrel, and US West Texas Intermediate crude rose 33 cents to $81.04 a barrel.
Prices were boosted by reports citing data from the American Petroleum Institute on Tuesday, which indicated a decrease in US crude oil inventories by approximately 4.3 million barrels for the week ending March 31.
Pivot Point: 80.80
Start your trading journey with Trade Master today!