October 04th Daily Analysis
October 04th Daily Analysis
The U.S. dollar lost some support from a slide in Treasury yields overnight after local economic data showed a slowdown in manufacturing, hinting that aggressive Federal Reserve rate hikes are already being felt. Meanwhile, the dollar index was unchanged at 111.55, near its lowest level in a week. However, it skyrocketed to a two-decade high of 114.78 last Wednesday.
On Monday, the Institute for Supply Management's (ISM) survey showed U.S. manufacturing activity was the slowest in nearly two and a half years in September as new orders contracted, with a measure of factory gate inflation decelerating for a sixth consecutive month.
Technically, the index remains positive on both the daily and hourly charts after the correction. The hourly chart is bouncing after the correction that hit 111.00 while technical indicators confirm.
Meanwhile, the daily chart shows strong resistance below 112.30. On the other hand, technical indicators show a possible continuation of the uptrend on MACD figures and a horizontal trend signal on the RSI on the daily chart.
Pivot Point: 111.10
EURUSD rose 0.4% to 0.9864, ahead of the release of the latest producer prices for the Eurozone as a whole for August. These are expected to remain at highly elevated levels, increasing the pressure on the European Central Bank to continue with another hefty interest rate rise later this month. The index is expected to rise 4.9% on the month and to be up 43.1% on an annual basis.
Technically, the common currency remains negative on the daily chart as long as it trades below the parity levels. Meanwhile, the correction trend hit a resistance level at 0.9875 which is right below the intense resistance at 0.9950. The correction trend is expected to continue if it broke above 0.9875.
Pivot Point: 0.9870
The precious metal jumped into a corrective trend after breaking above the level at 1,650 reaching above the key level at 1,700. The movement is caused by the weakening dollar more than a strength in gold prices. Meanwhile, technical indicators look indecisive after reaching the peaks of the readings.
Pivot Point: 1,700
WEST TEXAS CRUDE (USOUSD)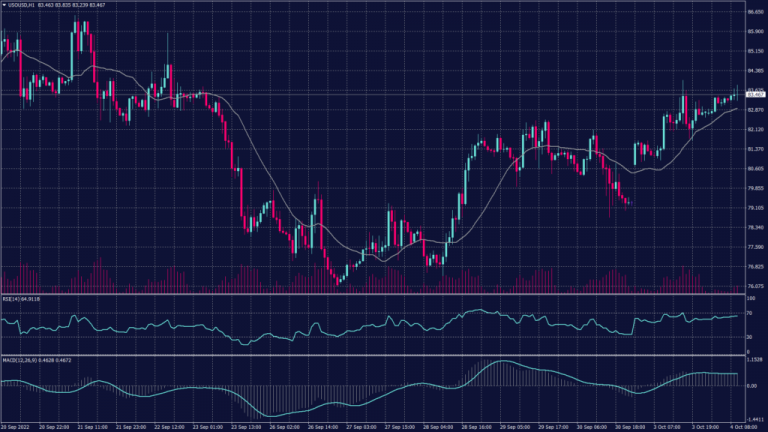 Oil prices edged higher on Tuesday as expectations that OPEC+ may agree to a large cut in crude output when it meets offset concerns about the global economy on Wednesday. Brent crude futures rose 0.5% to $89.32 per barrel after gaining more than 4% in the previous session. Meanwhile, U.S. crude futures rose 0.4% to $83.93 a barrel.
Oil prices rallied on Monday on renewed concerns about supply tightness. Investors expect that the Organization of the Petroleum Exporting Countries (OPEC) and its allies, known collectively as OPEC+, will cut output by more than 1 million barrels per day (bpd) at their first in-person meeting since 2020 on Wednesday.
Both benchmarks had rebounded in the prior two sessions, after reaching nine-month lows this week, after a temporary dive in the dollar index and a larger-than-expected drawdown of U.S. fuel inventory raised hopes of a consumer demand recovery.
Pivot Point: 83.50
Start your trading journey with Trade Master today!