Toyota Motor Corp will halt production at its Russian factory from Friday while vehicle imports into the country have also stopped indefinitely due to supply chain disruptions, the automaker said.
Toyota joins other Japanese automakers that have taken or flagged similar moves, also citing difficulty in procuring parts and other logistical hurdles.
Technical analysis:
From the overview of price of Toyota motors, we could see that price is in a downtrend. Price is currently within the resistance level between 175.21 and 172.64 which is also within the oversold level in the RSI indicator. There could be a possible pullback before price continues in its bearish direction.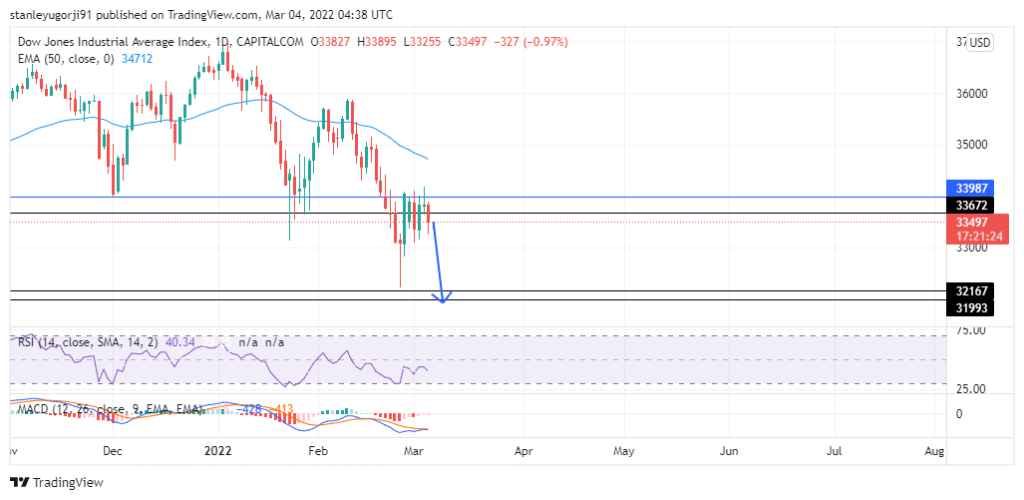 Wall Street ended lower on Thursday, with growth stocks including Tesla (NASDAQ:TSLA) and Amazon (NASDAQ:AMZN) denting the Nasdaq, as the Ukraine crisis kept investors on edge.
Tesla dropped 4.6% and Amazon lost 2.7%, both contributing more than any other stocks to the Nasdaq's steep decline.
Technical analysis:
The overall trend for US30 is bearish. We could clearly see that price is retesting the support level between 33987 and 33672 before continuing to the downside. The RSI and MACD are below the centreline which adds to the confluence of a possible move to the downside.
Technical analysis:
From the overview of price in AUDJPY , we could clearly see that price has broken the resistance level between 84.254 and 83.892 and is most likely to retest the zone before pushing to the next zone. The RSI and MACD are above the centreline which signifies a change in trend to the upside.
Start your trading journey with Trade Master today!