March 03rd Daily Analysis
March 03rd Daily Analysis
The dollar index continues in a state of turmoil as it faces higher demand with the increasing expectations of raising interest rates to higher than expected levels, on the one hand, and data and numbers of economic indicators in the United States of America on the other.
Technically, the dollar is trying to consolidate at its important levels at 107.75 after gapping down with the opening of today's session. The readings of the technical indicators are still fluctuating and not within a clear direction.
Pivot Point: 104.80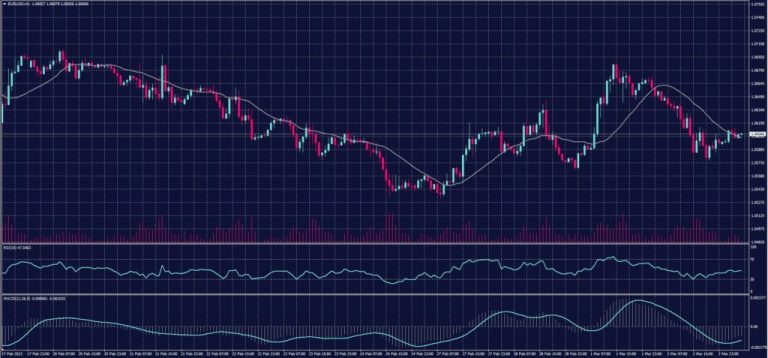 Data released on Thursday, March 2, showed that the inflation rate in the eurozone was recorded at 8.5% in February on an annual basis, indicating that prices are not declining at the pace recorded in previous months. Analysts in a survey conducted by the Wall Street Journal expected a lower inflation rate in February, which is 8.2%. As for the core inflation rate, it rose to 5.6% in February from 5.3% in January.
In recent days, investors have been puzzled over whether the ECB will have to maintain its hawkish stance for a while longer after higher-than-expected inflation figures for February in France, Germany and Spain.
Pivot Point: 1.0615
Gold futures prices declined at the settlement of trading on Thursday, March 2nd, for the first time in 4 sessions, with the rise of the dollar. Upon settlement, gold futures contracts fell by 0.3%, or $4.9, to $1840.50 an ounce.
After gold received support from Chinese economic data and the short-term decline in the dollar, the prices of the precious metal fell at the settlement of Thursday's session. Moreover, gold's decline coincides with a noticeable rise in US Treasury yields.
Economic data showed a decline in unemployment claims in America last week, contrary to expectations, recording 190,000.
Pivot Point: 1,835

Dow Jones Index (DJ30ft – US30)
US indices recorded collective gains in Thursday's session after the rising US Treasury yields subsided, coinciding with comments from Atlanta Federal Reserve Chairman Rafael Bostick on his preferred path to raise interest rates for the central bank.
Bostick stated that he preferred "slow and steady" as an appropriate measure for the Federal Reserve, as the effect of higher interest rates may begin to be felt in the spring only. Furthermore, the US Treasury bond yield reduced its highs before the closing of US markets to 4.88% from 4.94% at the beginning of Thursday.
The Dow Jones index recovered 33,000 points at closing after rising by more than 1%, or about 340 points, achieving its highest daily gain in more than two weeks.
Pivot Point: 32910
Oil futures rose at the settlement of Thursday's trading session, March 2nd, recording the highest level in two weeks. Coinciding with the rise in oil prices, there was a sense of optimism about the recovery of the Chinese economy, which offset some concerns about the future of inflation in the eurozone.
China's seaborne imports of Russian oil are expected to hit a record high this month as refineries benefit from lower prices.
Upon settlement, Brent crude futures rose by 0.52% to $84.75 a barrel, and US crude futures rose by 0.6% to $78.16 a barrel, which is the highest settlement price since February 16.
Pivot Point: 77.85
Start your trading journey with Trade Master today!